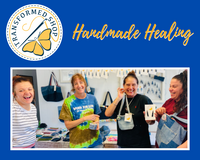 Our Mission
We're helping women move beyond their experiences of homelessness, trauma and abuse to find hope, healing and creativity.
The Transformed Shop is the nonprofit social enterprise of New Life Mission.
By purchasing these products, you are empowering a woman to gain valuable skills that will equip her to break the cycle of homelessness.
Shop now